Small Business Insurance in Oklahoma City, OK
Small businesses are the backbone of any economy, and business owners have to manage a large number of risks. Small business insurance is one-way owners can protect their operations. Ford Insurance Agency offers small business insurance in Oklahoma City, OK. Unlike other insurance companies, we strive to form lasting partnerships with our clients. You can count on us to provide the coverage your small business needs when it needs it.
Contact us today to discuss options for small business insurance.
Commercial Insurance in Oklahoma City, OK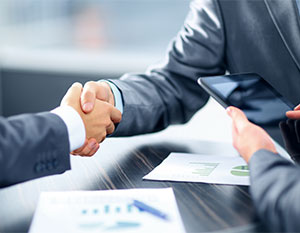 There are several types of business insurance, including liability, workers' compensation, and commercial auto coverage.
General liability insurance protects your business from claims of property damage or injury. For example, liability insurance will cover you if you accidentally damage a client's property while on the job. Most businesses are required by law to carry liability insurance.
Workers' compensation exists to reimburse workers who sustain injuries while on the job. If a worker is injured on the job site, workers' compensation will cover their lost wages, medical care, and other expenses.
Commercial auto insurance exists to protect business vehicles from accidental damage. Just like private auto insurance, commercial auto insurance exists for all kinds of commercial vehicles, including vans, delivery trucks, and semi-trucks.
In addition to these types of insurance, companies can buy business property insurance to cover any property damage from emergencies, weather, and vandalism.
Our affordable insurance policies can give you peace of mind so you can focus on running your business. You work hard to make sure your business is successful, so make sure that you protect your investment and business income with adequate small business insurance.
Business Insurance in Oklahoma City, Oklahoma
Businesses face all kinds of risks, from bad weather to missing inventory. Even a small emergency that interrupts operations can cost you thousands in revenue and productivity. Business insurance gives you the peace of mind to handle the daily stresses of running a business without worrying about protecting your business property.
Oklahoma City is the capital and largest city in the state. Oklahoma City is known for its livestock trade and presence in the oil and natural gas industries. Thai city is also home to a handful of Fortune 500 companies.
Contact Ford Insurance Agency online or call today at (405) 275-3306 to discuss small business insurance options in Oklahoma City, OK!