Business Insurance, Auto Insurance, and Homeowner's Insurance in Moore, OK and Surrounding Areas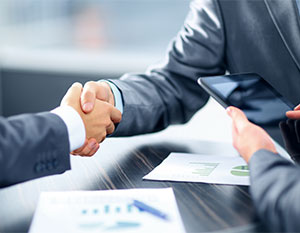 Unless you're an insurance agent yourself, finding the right coverage can seem like an impossible chore! With so many policies to choose from it can be difficult to decide on the right coverage to keep you, your home, your loved ones, and even your business protected.
At Ford Insurance Agency we're here to help! Serving Moore, Oklahoma, and the surrounding areas for nearly six decades, we're Moore's number one choice for commercial insurance, auto insurance, and homeowner's insurance coverage. Give us a call today to schedule an appointment and learn more about insurance coverage solutions.
Business Insurance in Moore, Oklahoma
You work tirelessly to keep your business afloat, the last thing you should have to worry about is commercial insurance coverage. At Ford Insurance Agency we understand the ins and outs of business and use our knowledge to help you find the right business insurance policy.
From small business insurance for shops and boutiques to large-scale commercial insurance coverage for industrial companies in Moore, OK, and the surrounding areas, we make finding the right business insurance policy hassle-free, so you can focus on what's important–running your business!
Auto Insurance in Moore, OK
Auto insurance is such an important form of coverage that it's required by law in Oklahoma. But oftentimes the minimum state requirements are not enough to keep you protected on the road. We're here to fill in the gaps and ensure that you have the car insurance coverage you need on the road.
Working with a selection of reputable auto insurance carriers, we present you with several car insurance policies to choose from. Our car insurance options may include, but are not limited to:
Bodily Injury Liability
Uninsured / Underinsured Liability
Property Damage
Comprehensive Coverage
Collision Coverage
Personal Injury Protection
Medical Payments Coverage, and more!
Home Insurance in Moore, OK
Moore, Oklahoma is a charming city seated in Cleveland County. Situated in the center of the state, Moore is home to plenty of activities for the adventurous spirit such as dog parks, laser tag, trampoline parks, and so much more. While Moore is smack dab in Tornado Alley, that doesn't change the friendly countenance of Moore residents. Moore, OK has also been called one of the best places to live in the state, with affordable housing and plenty of educational opportunities.
At Ford Insurance Agency we are proud to serve Moore, OK, and the surrounding areas with quality home insurance solutions. Since 1963 we've been going above and beyond to help homeowners procure homeowner's insurance solutions that keep their homes and possessions safeguarded against a range of perils. Understanding that your home is more than a structure, we work with you to find the right home insurance solutions for your lifestyle and budget. Contact us to chat with a skilled agent about homeowner's insurance!